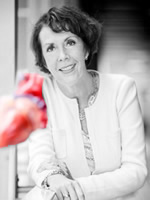 Prof. dr. A. Maas
Cardioloog
UMC St Radboud, Afdeling Cardiologie, Nijmegen
Nederland

Angela Maas is registered as a cardiologist since 1988. Over the past 25 years she has worked in large hospital practices in Arnhem and Zwolle in the Netherlands. During these years she has developed a main interest in heart disease and its prevention in women and followed courses on this subject in the US, Canada, Berlin and Stockholm.
In 2003 she started with outpatient cardiology practices for women and she obtained her PhD on the clinical significance of breast arterial calcifications in mammograms in 2006. She received awards from the Dutch society of female physicians and Libelle magazine in 2010 for her work on heart disease in women. In 2011-2013 she was listed in the top 10 of most powerful women in Dutch healthcare (Opzij) and she is co-founder of the gender-working group of the Dutch society of cardiology. Since May 2012 she works as a full professor of Cardiology for Women at the UMC St Radboud in Nijmegen.
Her main interests are the early identification of females at increased CV risk and symptom evaluation in women at middle-age. She has initiated several multicenter collaborative projects with other disciplines (gynecologists, vascular imaging, epidemiologists, primary care, etc) to improve healthy ageing in women. She is currently establishing a tertiary expertise center for microvascular coronary disease in females at the UMC St Radboud.

Social media: Twitter / LinkedIn
Referenties: PubMed
Presentatie(s) van deze spreker
vrijdag 29 november 2013 om 10:00 - 10:30

Coronaire hartziekten bij vrouwen: zij maakt het verschil
Prof. dr. A. Maas